Simple, Natural, Feminine Beauty. That's what comes to mind after working with Rosie Jane Cosmetics. The creator of the line, Rosie Johnson wrote, "THE TIME I FEEL MOST BEAUTIFUL IS WHEN I HAVE NO MAKE UP ON. I HAVE JUST COME FROM THE BEACH WEARING A SARONG, THONGS AND A SUN KISSED GLOW. ROSIE JANE IS ABOUT FEELING THAT NATURAL CONFIDENCE."
I think those words explain this line to a T. I got to play with the Cheek Gloss in the color Poppy, their Eye Defines pencil in Night and their exclusive fragrance Leila Lou. :-)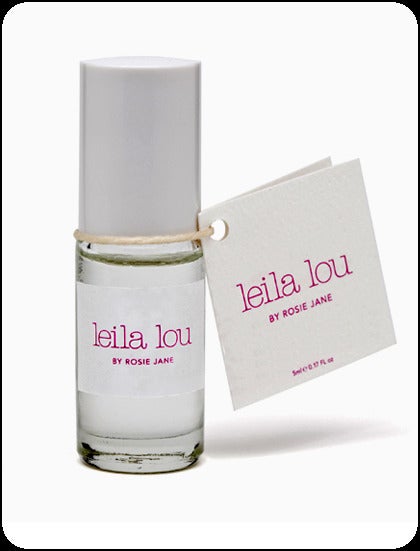 Let's talk about this girlish fragrance. I was pleasantly surprised at how light and feminine this fragrance was. Leila Lou is a perfume oil that comes in a roll on bottle made with 100% pure oils. It is easy to wear since it is so light. It's floraly and slightly sweet.
This would be a great fragrance to bring along in a small purse or when traveling since it has an easy roll on applicator and it comes in a small bottle.  This retails for $38...which to me seems a little pricey.
Something GREAT I learned about Rosie Jane is that they are dedicated to saving the environment by using 100% recycled and recyclable materials. I also think the packaging deserves 5 stars. It looks very upscale feminine. I like the simple white with pink detailing and lettering.
I also tried the Cheek Gloss in the color Poppy. Cheek glosses come in 3 different colors. Check them out for yourself. www.rosiejanecosmetics.com
You can see the gloss I had there on the far right. Poppy is a deep berry hue. The cheek gloss is translucent color that you can wear on its own or over foundation. It's very light and buildable. It's perfect for a summer beach look. Personally, I liked this on my lips. I don't know if it's made for the lips...but, it provided a hint of color and a glossy finish. Plus, I like products that you can use multiple ways!
The packaging is OH-SO-CUTE. I love the little white box that the cheek gloss comes in and little pink ribbon bow. I also like that the white compact has a small mirror inside. This makes it a great -purse item.
But again, the price is $38. A little on the high-end...but then again this is a higher end cosmetic line. My only issue with this is...a young girl who loves the cute packaging and simplicity of wearing natural makeup probobly couldn't afford this. It's focus must be for the  20 + age group.
The 3rd thing I was able to try is the Eye defines pencil. Mine was in Night...but these are sold in 4 colors, grapevine, fern, and beech tree. Hey! I just realized almost all the product names are things found in nature. That is very cool!!
These come in very beautiful "earthy" shades. The black goes on kinda greyish black...like a charcoal. It is long wearing and very gentle. Something very unique about these pensils is that they have a slanted tip and they twist up! No need to sharpen...that makes for easy traveling.  These are much more reasonably priced at $15 each.
Rosie Jane also has "Eye Hue" eyeshadows...and "lip dew" lipglosses. You can check out the site which is also very feminine and simple at www.rosiejanecosmetics.com <3
Rosie Jane cosmetics have been featured in magazines like InStyle, O, Allure, Marie Claire, Cosmopolitain, Vogue, Country Living, Elegant Bride and more.
Disclaimer: I did receive these products from Rosie Jane for testing. I did not get paid for this review and these are my original and honest thoughts.
_____________________________________________________________________
Hey Guys!! Don't forget...my contest is going on to win a free kabuki brush from Spornette....(another company I reviewed).
*** I will also throw in some other free samples I have received from other companies!  http://lovelo.wordpress.com/2010/08/07/clear-skin-with-the-power-of-oxygen-neaclear-my-first-giveaway/
Go to the link above to find out how you can enter the contest......
Thanks all!
LoveLO
For love is as strong as death. SONG OF SOLOMON 8:6