Hey Everyone! Hope you had a great weekend. Royce and I are trying to furnish our apartment slowly but surely. We managed to get 2 tables into our place this weekend and hung our stockings up for Christmas. So, this place is starting to look a little more homey. :)
I have some ideas for last minute gifts and some are products I have tried and love. <3
Buxom City Slickers. You guys may have seen me RAVE about the Buxom Glosses back in this post:http://lovelo.wordpress.com/2010/11/03/bigger-and-bolder-with-buxom-from-bare-essentials/  I LOVE these glosses and mini lipsticks. This pack of 4 glosses and 4 lipsticks is only $39 and can be found at sephora! It makes the best gift for a beauty lover!
[slideshow]
The colors are so amazing, and I love the creaminess of these glosses and lipsticks!
Arm Candy Bags by SAKroots. These bags are so cute and are made with beautiful printed artist designs. They are only $49! A great size bag and a great value. Go to http://www.thesak.com/store/productslist2.aspx?categoryid=305&siteid=sakroots
100 Percent Pure Deals. You all should know by now, I love this company. I love the products, the fragrances, and the concept behind the line . Go to www.100percentpure.com to read more about them and here is the latest deal being offered.
And finally, stop in at a LUSH store near you. They have pre-packaged/wrapped holiday  sets that make great gifts. http://www.lushusa.com/shop And for the girl who likes lip products try the BON BON lip scrub. A sugary sweet exfoliant for your lips that will make them soft and smooth!!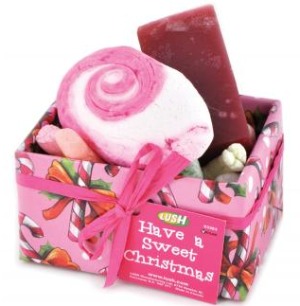 Happy Holidays!! Merry CHRISTmas..
xoxo. LOVELO