Hey Guys! It seems as if everyone is always searching for the latest and greatest mascara. Most women are looking for one that separates their lashes, gives them lots of volume and doesn't flake or smudge.
After they discontinued my favorite drugstore mascara EVER (Maybelline Lash Expansion) I was devastated. When you find one you like it's tough to lose it. :( But, as a mascara junkie,  I have tried and tested probably over a hundred mascaras..and these three are my current favorites. P.S if anyone every finds the Maybelline Lash Expansion Mascara...tell me! I need to find it.
LASHGASM  Mascara by TOO FACED Cosmetics.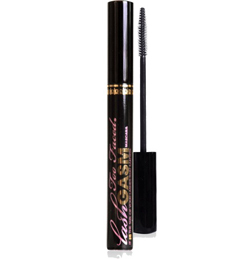 ( http://www.toofaced.com/ )
False Lash Mascara by MAC (http://www.maccosmetics.com/)
Youngblood Mascara in Blackout (http://www.ybskin.com/index.php)
What makes a good mascara in my opinion?
Non smudging, Non Flaking
NOT WATERPROOF but Water Resistant (It's a pain to try to get off waterproof mascara)
BLACK BLACKITY BLACKEST BLACK you can get
A wand that is straight across not curved or round
A wet formula but not goopy and clumpy (I want visible signs that mascara is on the brush but not to the point that I can't see the brush bristles)
That's about it! I hope you enjoyed reading my top 3 mascaras (this is of the moment). All three of these have the qualities I like in a mascara above.
Happy Shopping! ;)
xo LOVE LO