Hi Beautiful Friends, With spring around the corner I have the fever to talk more beauty! I recently wrote about my travels to Africa which was an absolutely an amazing journey and experience,  but now it's time to move on to more beauty topics.
It usually happens every year, every springtime I get in the mood to be super blonde!! Right before I left on my trip I went to my friend Amanda who always does exactly what I want. (Amanda works at ReVAMP salon in Uptown, Minneapolis, if you are interested in seeing her! She's FANTASTIC!!! ) Anyway, since that I have been using a "highlight shimmer enhancer" for blonde hair. Sometimes you can see this product called, "purple shampoo" , because it's usually purple in color. I have tried over 10 different kinds and spent between 17 and 30 dollars on this product.
But, I found a generic brand that is JUST AS GOOD as the expensive kind. It's Generic Value Products Conditioning Shampoo. On the bottle it says it is the generic version of Clairol shimmer lights original conditioning shampoo.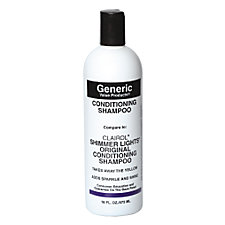 You can find this at Sally Beauty Supplies. Online I saw this for $6.29 (http://www.sallybeauty.com/on/demandware.store/Sites-SA-Site/default/mProduct-Show?pid=SBS-264028) and I forget how much I paid in store, but it was around that price.
That's HUGE savings from other brands which are usually at least 17 dollars! And, this product works just as good as any of the other brands have worked on my hair.
I will note that the smell of this is not very nice, but it's not horrible either. It's probably not as nice as the expensive versions but it works just as good. That is the important thing to me.
So, keep in mind that  generic brands can be just as good as name brand products!
Have a great day !
LOVE LO