If you're looking for a hair masque that is going to REVIVE dry damaged hair, start by trying the Matrix Biolage Aqua-Immersion Creme Masque. I've been using this for the past couple weeks and I'm absolutely in love with it!!! It makes your hair shiny, soft and manageable in seconds. My only complaint would be mine wasn't in the larger jar!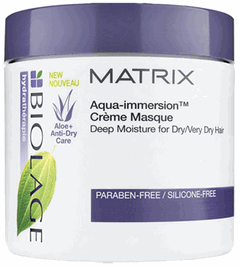 Biolage new technology hydrathérapie continuously moisturizes hair to help stop the dehydration cycle with the Anti-Dry Care of Aloe + Passion Fruit. It contains nutrient-rich sunflower oil to continuously protect against dry hair. It is paraben and silicone-free, and excellent for color-treated hair.
Matrix Biolage hydrathérapie comes in a variety of other products also. 
Have you tried this?? If not, and you want moisture rich, soft, silky, manageable hair...the aqua-immersion creme masque is definitely one of my TOP picks!
LOVE LAUREN